Canoeing
Some people race in fast C2 canoes, others enjoy a quiet paddle down a lazy river in peace and quiet. Some go for a swim or splash around whenever they like.
Paddling your way through the wilderness can be a wonderful opportunity to get some exercise, socialize with friends and explore wild places others can't reach, like calm inland waters, whitewater rivers, and along the coast.
Canoeing is an exciting sport if you learn it well, then play wet and wild canoe games in the pool or on the lake. A good soaking is often the reward for trying something new. That's what canoeing in open boats is all about.

Canadian Canoes
Canadian Canoes may not be as fast as kayaks, but they are roomier and can carry a fair bit of cargo or more people. Watertight boxes can be secured in the centre to carry food, spare clothes and camping gear. They also add some buoyancy and should stay in place when you capsize.
If you go out with a group you may want to combine kayaks with canoes or rafts for greater variety. Kayaks can escort the slower canoes or rafts which carry most of your gear. Known for their handling and seaworthiness, kayaks take many shapes depending on their desired use.

Prepare to Get Wet
If you are the kind of person who would panic when underwater or getting soaked, think carefully before considering taking up either kayaking or canoeing as a sport or hobby. Canoeing and Kayaking are exciting sports if you learn them well. You can paddle to places other water users can't reach, like calm inland waters, white water rivers, and along the coast.
Canoeing Lessons
The instructor usually gives you an overview on the different types of boats and equipment, like buoyancy aids, life jackets, paddles, spray decks, and the right clothing to help keep you warm. Learn about safety measures, capsizes, swimming in canoeing clothes, and how to carry your boat. Sometimes they show you a training video. Take good notes so that you can refer back to these at a later date.
Swim Test
Anyone considering canoeing lessons should be able to swim at least 50 metres fully clothed, to be confident in the water with your head above and below. A swim test with a local conoeing group or shop is great fun. You get to swim in a variety of clothes to see what works best for you.

Canoe Trips and Survival Camping
If you enjoy canoeing or kayaking and you'd like to add another dimension to your adventure experience, consider a canoe camping trip that simulates an emergency camp-out, but in a fun way.
You'll learn what happens when a lot of your kit and clothes get wet, and how to deal with it. Although these trips require careful planning, even beginners can arrange a trip suitable to their goals and needs.
Pick Your Team
Choose your expedition partners wisely. A canoe trip requires teamwork and a positive attitude. You need the ability to solve problems and have fun without the many comforts of home.
The adventure you plan should match the ability level of your group. When in doubt, stay on the side of caution and choose a shorter trip with fewer portages. Choose areas of water that will be safe for all members of your group. Lakes with islands to be explored are a good choice for beginners.
Three Boats
It is recommended that you have a minimum of three boats on your trip. If something happens to one of the boats, you can still get everyone home in the other two. More boats may become cumbersome.
Supplies
There are many items you may want to bring. If it is not neccessary to bring it, then it is is neccessary to leave it at home. For anything above and beyond the essentials, consider how much comfort it will give you while camping, versus how much discomfort it will cause you while portaging.
Keep in mind that most, if not all, of the necessary equipment can be rented through an outfitting company, so before purchasing any expensive items, it may be wise to try them out first.
Tent
Depending on the climate you may want to use a lightweight hiking tent, or just a simple army poncho as a tarp which dries out quicker.

Canoe Clothing
Canoeing is a water sport and you will get wet. Dress for immersion. Consider the water temperature, not the air. You can always cool down with a quick dip, but warming you up requires effort. Warm quick drying clothes like fleece under a spray suit will keep you warm and happy when you get wet, fall into the water, or go for a swim. Carry a waterproof bag for your dry camp clothes at night and a sleeping bag.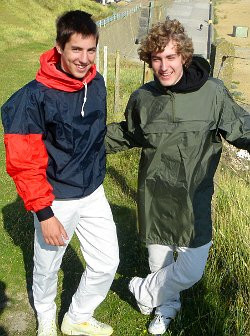 Short cagoule fits a kayak spray deck, a long cagoule has more cover in open canoes.