Fun Sports for Beach and Lake
The beach is the goto place for lots of wet fun

. In this section we share a few ideas for soaking wet games, and a some reader comments.

A long sandy beach is great for fun with friends, running in and out of the water, and playing in the surf. Where possible stay between the red and yellow flags on lifeguarded beaches.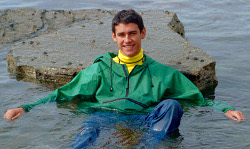 Rock pools can get quite warm on a sunny day. Just lay down, float, relax and enjoy.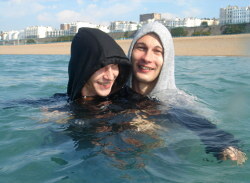 Beach life is a lot of fun with a group of friends.
Let's face it, the point of many beach sports is to get wet and enjoy a refreshing dip every now and then. The thrill is in the uncertainty when you hit the water, especially when you're fully clothed. You try to stay dry for as long a possible. Soon you get splashed a little. Before you know it a wave hits you, or you fall in and get completely soaked. Enjoy!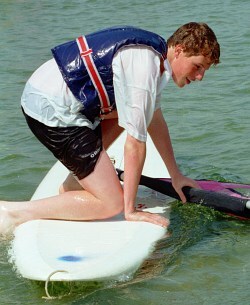 "Oops! Fell in again..."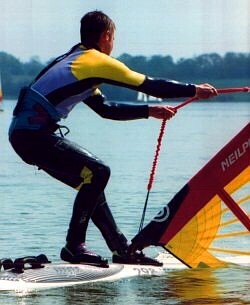 Beachwear
Smart adventure swimmers often wear clothes in the water to keep warm

, avoid sunburn, protect from cuts and bruises in wild terrain, but also to add fun and excitement.

The choice of clothes depends largely on the terrain and the climate. All clothes must be unlined to avoid pockets of air and water. You can layer them to suit your needs.

Dress according to the water temperature. A layered approach works best, with a thin thermal base layer, a middle layer for warmth, and a windbreaker as outer layer. If you can get in the water comfortably, this is definitely a good idea. A wetsuit as middle layer will help you stay warm in cold water and you should certainly wear one while warming up to get a feel for it.

We all have a different tolerance to cold water depending on our physiological make-up. It is better to dress warm, even if you see plenty of other swimmers in the water only in tees and shorts. Remember, others may be lean, but you can wear an advantageous extra layer of insulation.

Sun Protection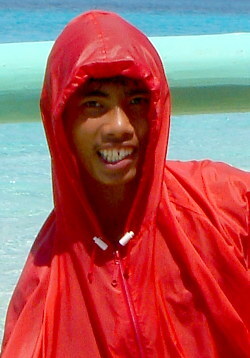 Sun lotions wash off after half an hour and pollute the sea. Well fitting clothes, possibly with a hood, stay put. Cover up on the beach and stay healthy while protecting the environment.
Visibility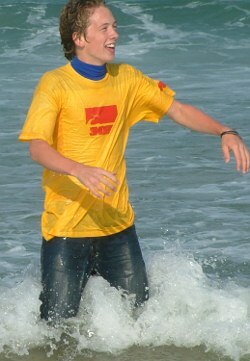 For safety reasons, always be seen in a brightly coloured clothes when swimming outdoors. This is especially important if there are boats nearby or other watersports happening in the area.
Sports Clothes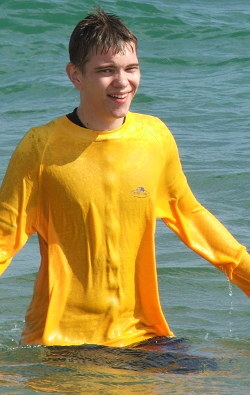 Sportswear and sweatshirts are a good choice for tough swim training. They'll soak up a lot of water and get heavy. Stay close to the beach for an exhausting workout.
Nature Watching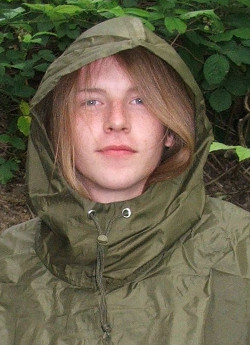 Camouflage or green ponchos hide your shape on land and in the water when watching wildlife.
Windbreakers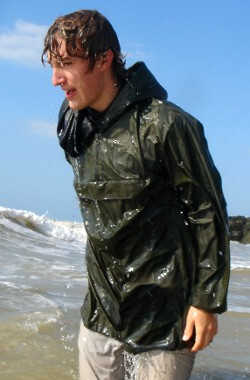 Anoraks or windbreakers keep you warm by shielding you from wind chill.
Cold Water Wetsuit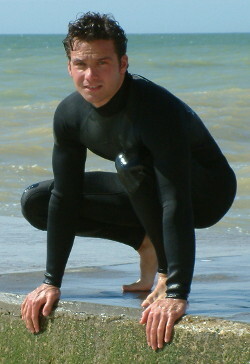 A wetsuit must fit you well, otherwise you could be fighting it or have a load of cold water sloshing around inside.
Time for a Swim in your Beach Clothes
Once you've made sure that your swimming clothes fit well and are comfortable, it is time to go for a swim. Key points here are how practical your kit is, how it feels, and if it is warm enough.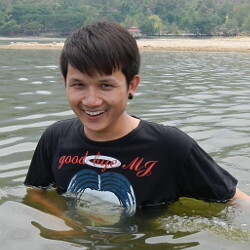 In hot weather jeans and tees feel great in the water. When colder you may want to use nylon and fleece clothes.